Offsite meeting of the Aluminum Association took place in Belaya Kalitva on the 18th of May 2017.
22.05.2017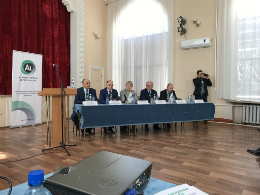 The biggest aluminum manufacturers in Russia, as well as Greenhouses of Russia Association representatives, representatives of Furniture and Woodworking Industry of Russia Association, Association of light emitting diodes and light emitting diodes-based systems manufacturers participated in the meeting work.
The largest productions of the region opportunities were presented at the meeting. Participants of the meeting showed the main branch-wise projects, related to such directions as aluminum in construction, rolled products and consumer goods as well.
Up-to-date issues and needs were discussed in accordance with the meeting results and market participants exchanged contact information as well.
Business excursion to OOO BK-ALPROF was organized at the end of the meeting, where all the participants were able to become familiar with the company production.